confession:  most of my NY-Lon fabric haul is already cut out and in various stages of assembly.
but this is my first finished, worn and photographed make out of the haul.  the fabric is liberty of london Lanthe which i scored at our (second) trip to Shaukat, an amazing little spot in the old brompton road that specializes in liberty remnants.  they actually have more fabric in stock than liberty, in more colorways and content types, and i fearlessly splurged on varieties in silk/wool, silk/cotton, and the classic tana lawn.  in fact, while we're talking about our trip to shaukat and the subject of aggressive persuasion, i sweet-talked vicki into snagging some of this print as well – she went for a classic colorway in multiple shades of blue.
also true:  vicki went straight to a bolt of wool/silk and looked at me and said, "this is so you."  and then i held up my cut pile to reveal the yardage (meterage?) i had already set aside for purchase.
i felt that the art deco and vintage feel of this print demanded an appropriately period garment and i went straight to the 1930s part of my pattern stash.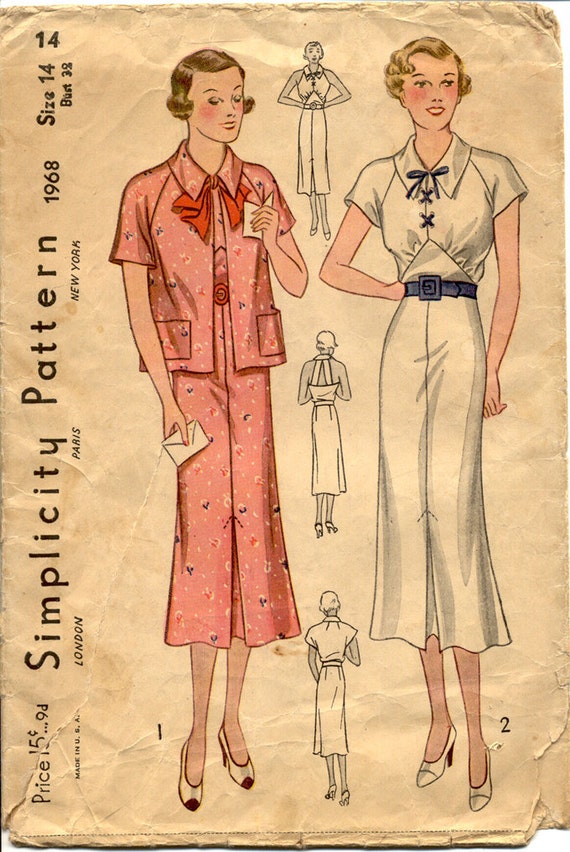 only, i really don't enjoy that style of waistline.  it's difficult to sew (for me) and i don't find it particularly flattering.  for me, the appeal was about the great skirt detail, the low back with straps, and the collar.  to me those all screamed 1930s but in a way that could still be modern and fun.
so i paired it up with simplicity 1755, a raglan number from the leanne marshall pattern collaboration.  it's been a winner for me in the past and i felt confident that i could blend the more modern bodice front with all of the elements that attracted me to the vintage piece.  i especially love the gathers along the shoulder line instead of a dart – i thought a dart would too obviously deviate from the vintage feel.
only don't ask me how many times i pleated and re-pleated the fashion fabric, lining fabric, collar fabric and straps in a quest to get a neat, clean all-in-one finish.  i swear part of my brain has deserted me.
i am extremely satisfied with the curve of the back bodice and the way the straps lay across my back.  there was some tweaking there but in the end a good result.
my collar leaves a bit to be desired but mostly in the realm of "only another sewist would ever know".
best of all, it looks perfect with my papercut copelia.  my office life demands top layers and i don't enjoy sitting in a blazer all day.  instant answer.